Details

Category: Gemstones by the Month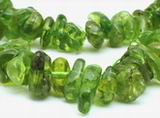 Peridot: the cooling gemstone for August     
         
Just the name peridot sounds summer cooling.  Its vivid, shimmering aqua-green colour is the ideal gemstone to complement a light summertime outfit.  Peridot goes well with any light colour, blending subtly to add interest to a design. 



What is peridot?
Peridot is the gem variety of olivine, a mineral formed under intense heat.  Its name coming from the French word "peridot" meaning unclear, due to its cloudy inclusions.  Small crystals of peridot are found in rocks by volcanoes and in meteors.  It's the iron included that creates the always green colour - ranging from transparent lime to olive-green. 
History
Peridot has been mined as a gemstone for thousands of years.  Said to be the favourite gem of Cleopatra and mentioned in the Bible. In ancient Egypt it was extracted at night, because they believed the sun hid peridot, yet it was easily visible by lamplight. The Greeks and Romans called peridot "topazion" and "topazius" – the later named topaz, to end the confusion between the two.

Peridot has also been confused with emerald and many jewellers refer to it as "evening emerald". Peridot was later used to decorate medieval churches, carried back to Europe by the Crusaders, like the huge stones of more than 200-carats at Cologne Cathedral.
Benefits
Peridot is recommended for insomnia, digestive problems and to stimulate the mind.  Some say peridot has the power to drive away evil spirits, intensified when the stone is set in gold.  And it's also thought to strengthen any medicine drunk from a peridot goblet.  Peridot is for people with the star sign of Leo.  
                                            
Peridot & pearl necklace      
Peridot & pearl go so well together – creating a stunning necklace.  Apart from white, blue pearls with vivid green peridot make a striking fresh combination to cool you from the summer heat. Clusters of pale-blue rice pearls wrapped with around 4mm peridot beads look beautiful.      
 For Peridot Beads click MrBead.com or MrBead.co.uk